All our planked timber is milled and dried by ourselves and comes from trees that have either been felled for

conservation or safety reasons or that are storm damaged, none of them have been grown commercially.
What sets us apart form other timber suppliers is we know the history of our timber: where it was grown,

when/why it fell, how old it was when it fell and in the case of some of the Sweet Chestnut who planted

it and why.
We only sell timbers grown in the UK, most of our timber has been grown within
Sherwood Forest, Nottinghamshire.
As no two pieces of wood are the same, the above images, showing timber colour and grain patten are for guidance only.
We only stock rough sawn boards.
Prices are regularly updated and may change at any time, certain wide boards may be subject to a
premium being added but our prices are a guide and discounts maybe available for larger orders.
Timber is priced per cubic foot (cu/ft)
1 cu/ft is equivalent to 2 boards @ 9" (225mm) wide x 1" (25mm) thick x 96" (2.4m) long.
Drying Terms:
Air: timber that's been allowed to dry naturally for at least 2yrs, as a general rule we allow 1yr per inch of thickness
Green: timber milled in the last 12 months.
N.B. Viewing of timber stocks is strictly by appointment only
One of the USP's of Forest 2 Furniture is our knowledge of where the trees we mill come from.

If you're a furniture maker concerned with the impact of commercially over extraction of our worlds natural resources
then perhaps now's the time to look for a new timber supplier.
Here at Forest 2 Furniture we know the provenance of every piece of timber we sell, where it came from, when it was felled and in the case of some timber such as Sweet Chestnut when it was planted and by whom.


New stock arriving weekly
(1st pic)
Recently arrived just last week a Sweet Chestnut felled at our woodland in Sherwood Forest as part of the ongoing management plan to bring that part of the woodland back to a coppice.
(2nd pic)
Ash and Oak hedgerow trees felled by the local power company as they were too close to the power lines, also a storm damaged Ash felled for safety reasons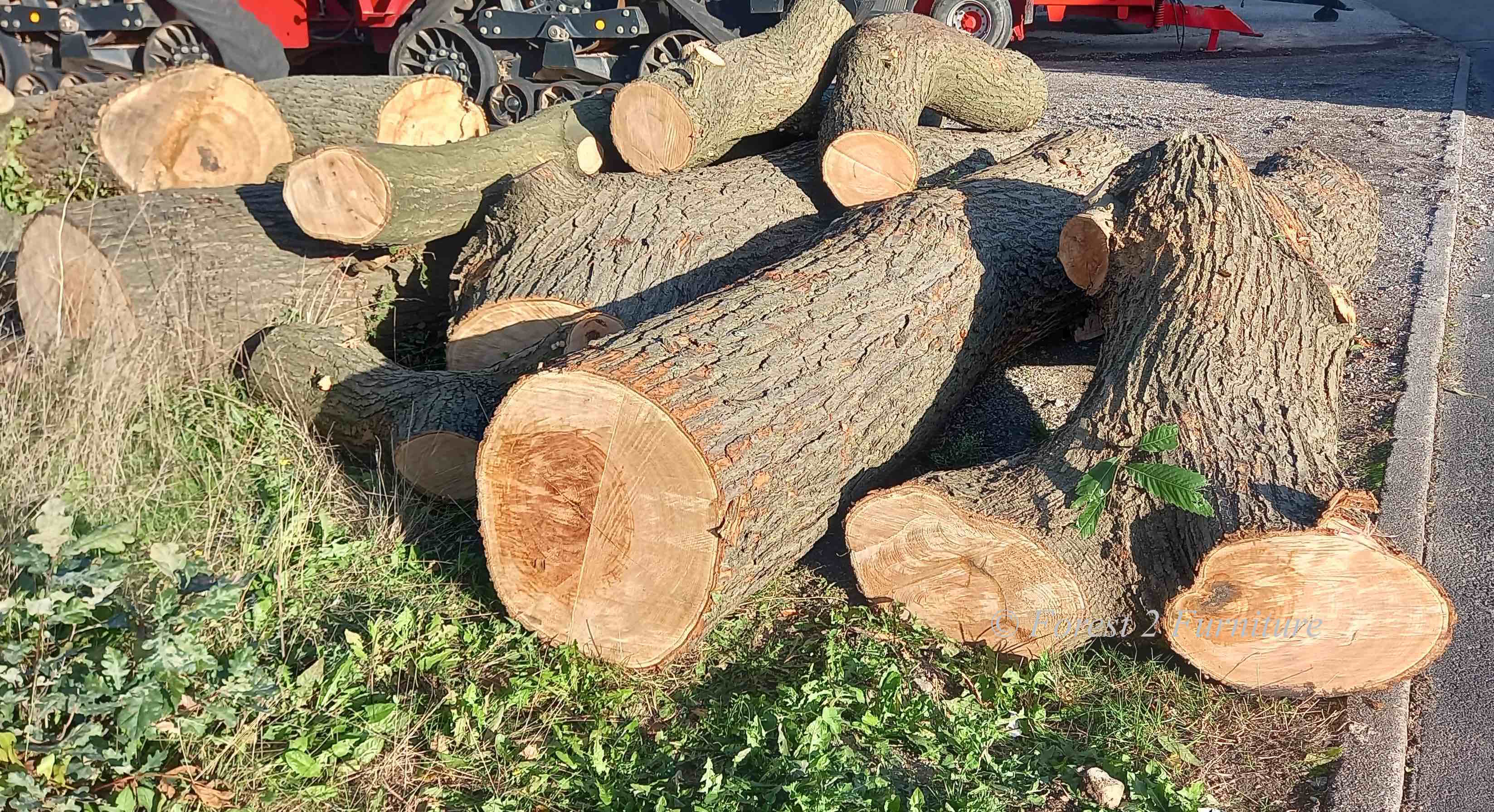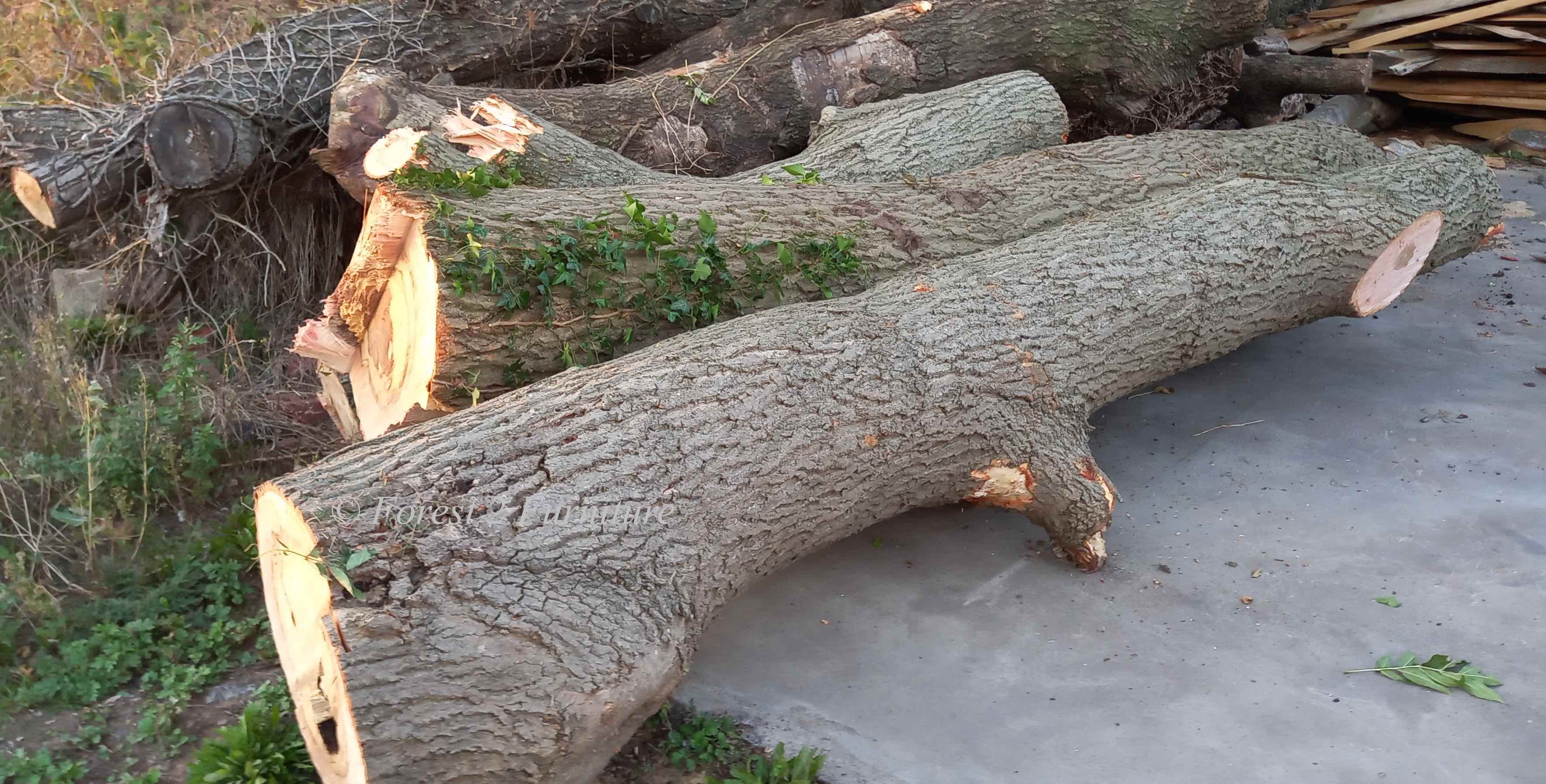 Milling of London Plane and Lacewood has produced some beautiful figured grain boards, click on the images below for more information on the process
The short clip below shows figured London Plane, also known as Lacewood in more detail.
The large holes to the edge of the wood have been caused by stag beetle and will be cut away before seasoning begins.
Short clip below of burr Oak milled from a tree grown in Sherwood Forest
Once milled our boards are sticked out in the open to air dry, although slower than kiln drying our customers say they prefer air dried as this gives a better quality board.

Below shows some recently milled 2" & 1.25" thick square edged boards of Sweet Chestnut stacked for air drying, this part of the drying process will take up to two yrs.
Video below is of some recently milled beautiful spaltered Sycamore, milled from trees grown in Sherwood Forest NNR.
The trees were felled in 2016 to make way for the new RSPB visitors centre
Current trees waiting to be milled include; Walnut, Oak, Yew,

Sweet Chestnut, Holly, Ash and Beech.
So be sure to bookmark us and check back for updates.
Contrary to popular belief, woodlands if left alone do not flourish, they need human intervention in the form of tree management.
As part of our on going management of an ancient woodland in Sherwood Forest, several of the large dying Sweet Chestnut trees are being felled to make way for the younger and stronger trees to grow.
This woodland was once a coppice plantation but many of the trees have been untouched for years and as is the nature of Sweet Chestnut they mature at about 70yrs of age after which they start to die. It's at this point they need to be felled, for unlike a dead Oak tree that can support over 2500 species of insect, invertebrates and wildlife a dead Sweet Chestnut tree is known only to support around 200.